The Staff
Annie's is more than just a company, it's a family. We work from home, packing all of your orders in our walk out basement. The staff isn't just people who come and perform a job, they are friends and become a part of the family. And that family extends to all of you who grow Annie's Heirloom Seeds. We love meeting you when we are out and about or in your correspondence, getting to hear about your gardens and your lives.
Julie
First, let me introduce myself. I'm Julie, co-owner and founder of Annie's Heirloom Seeds. I began Annie's out of a love for heirloom vegetables. I run the day to day operations of Annie's. In the winter that means packing and filling orders and in the summer that means the gardens. One of my big jobs is writing the catalog. I'm working all summer testing vegetable varieties and taking pictures to make sure that the catalog is full of useful information so you can pick the best garden.
The Staff
We have a few staff members that stay on all year along with a lot of temporary workers who come in and help in the winter packing your orders. Let me introduce them to you.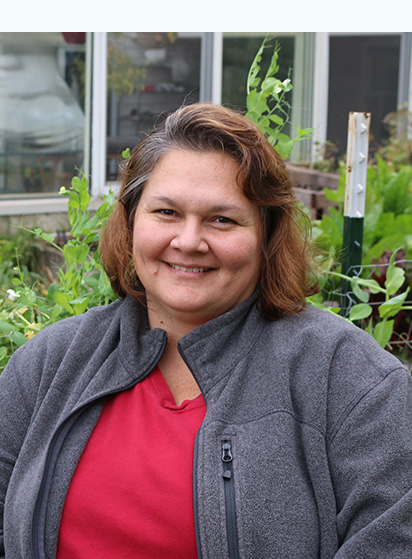 Kamaile
Kamaile has been a part of the Annie's family from the beginning. She began as a customer, and was one of our first. When we moved to Hudsonville and asked for help packing orders, she happily came to work here. She lives only 15 minutes away, which I love! I know her garden is an Annie's garden, and I can stop by anytime and snap pictures. Her children and ours are the same ages, and when she comes to work, she brings the kids and they all play. Kamaile has become a good friend, and is wonderful on the phones answering your questions. We are really lucky to have such a knowledgeable and friendly person to answer your questions!
Rebecca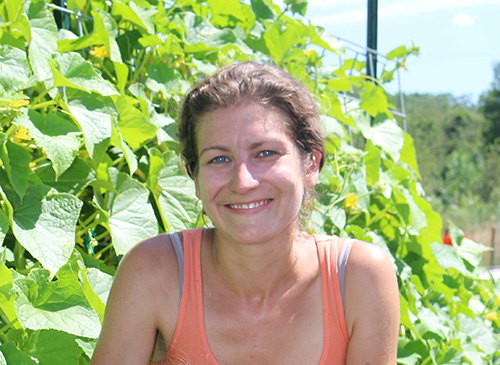 Rebecca has been a part of Annie's for a few years now. She began as a customer, learning from a friend about us. She responded to our request for help packing orders and thought that she was coming out to volunteer for a few hours. We hired her on the spot and she began helping out on Saturdays. Now she works two days a week year round, packing orders in the winter and working in the gardens all summer.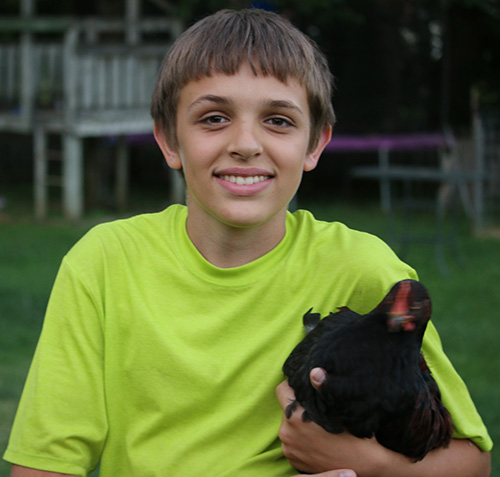 Carl
Carl is our son and part time employee of Annie's. He has been working at Annie's since we began and now works half time year round. In the summer he packs orders and helps in the gardens. In the winter he manages all our IT needs and manages inventory as well as packs orders. If anyone has a question, Carl is the one who probably knows the answer.
Scott
Scott is my husband and co-owner of Annie's. He handles all the mundane things that I hate doing like accounting and paperwork. He also does an amazing job of all the advertising. He's the reason most of you can find us.
Mike and Audrey
Mike and Audrey are Scott's parents. They retired from their day jobs two years ago and began working at Annie's in the winter. They do a great job packing orders and filling seed packets. Our kids get to see their grandparents several times a week, and it is wonderful to see Grandma and Anne sitting together chatting as they fill envelopes.
Seasonal Employees
We have a lot of temporary workers that help us pack and ship all your orders in the winter. They become as much a part of the family as the year round employees. Scott's parents are recently retired and work with us two to three days a week. They enjoy having something to do when it's cold and miserable outside, as well as spending time working with their grandchildren. I love watching our daughter and her grandmother chatting as they pack seeds. Diane also works with us. We met her through a mutual friend, and she has been a wonderful fit. She is always willing to work, helping out when we are really busy. She has a great, positive attitude and fills the room with laughter.