About Us - old 2016
Dear Gardener,
Allow me to introduce myself. My name is Scott. My wife, Julie, and I run Annie's Heirloom Seeds, not just as a business, but as a labor of love. We are passionate about all of our food, but vegetables seem to have a special place in our hearts.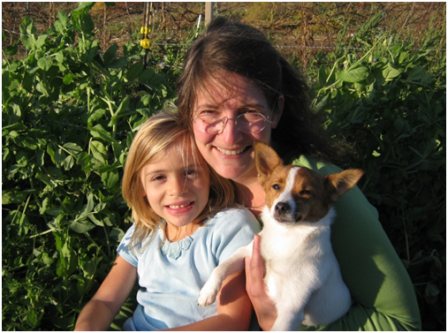 When I stop to think about why that is, I realize that it is because every other food can be preserved reasonably well. Meat can be frozen, fruit can be made into jam, honey can be crystallized and put aside for years.
But tell me... does anything compare to the taste of fresh cherry tomatoes, straight off the vine? How about stir-fried broccoli, fresh from the garden? Or lettuce salad, picked five minutes ago?
Wow, my mouth is watering just talking about it. Good thing we can start harvesting the lettuce soon, I need my vegetable fix.
We have chosen to grow heirloom vegetables for a variety of reasons. Better taste, better nutrition, disease-resistance, independence, and self-sufficiency all play a role. However, all of those practical reasons never really get at the heart of the matter.
The heart of the matter is that Julie and I choose to honor the influence that our grandparents had in our lives. Julie's grandmother was Annie, the namesake of our business and our daughter. She started the gardening tradition in Julie's family, and passed her knowledge down through the generations. My great-grandmother grew a particular strain of raspberries that my mother has preserved. We are going to try to propagate it and offer it to all of you. My grandfather is the one who inspired us to move to the country, raise our kids here, and declare independence from the rat race.
That connection with the past, more than anything else, is the reason we love heirloom vegetables.
The past influences all of us in ways that we sometimes don't recognize, and we frequently can't shake. Julie and I have chosen not to shake it, but to embrace it and make it a part of us. I like to think that we are richer for it, and that our ancestors that are no longer with us are proud of our efforts.
I would like to invite you to be a part of the Annie's family, to carry on this tradition with us. Our goal is not just to make a living, but to do something that has meaning and importance. Annie's is not just labor, it is a labor of love.
If you're a beginning gardener, we recommend that you get started in heirlooms with our Beginners Garden Collection. If you're a more experienced gardener but are just starting with heirlooms, check out the Annie's Favorites list for heirlooms that stand out above the rest. If you'd like a paper catalog, Julie puts together a spring and fall catalog with vegetables and advice specific to the season. You can sign up for our mailing list here, or download the catalog here. If you'd like to contact us for help with your garden or advice on what vegetables will work for you, please feel free to send us an email through the Contact Us page.
Please do not hesitate to contact us via phone, email, facebook, or twitter. Right now we don't have enough people around to man a phone all the time, but if you call when we're not around, leave a message and we'll get back to you. Nothing makes us happier than helping a beginning gardener find their first successes.
Thank you for reading, and I hope you find yourself loving heirlooms as much as we do. It's not just about the food, it's also about our families and our heritage. These things will only be preserved if we choose to make them important in our lives. I am proud to make them an important part of my life, and I am proud to give you the opportunity to do the same.
Sincerely,
Scott
PS - Use the "TryAnnies" coupon code for 5% off your first order with us. If that convinces you to give heirlooms a shot, it's worth it.
PPS - Many people have been asking where we are located and where our seeds are from. We live on a small farm in west Michigan. We grow the most rare and hard-to-get varieties ourselves here on the farm. We feel that if there are other farmers already growing the more common crops for seeds, it makes more sense to work with them than to compete with them and possibly take away their livelihood. We buy seeds from other small farmers around the country, as well as importing a few varieties from Europe. We do not get any seeds from the big American agribusinesses that are actively involved in genetic modification of plants. We have signed the Safe Seed Pledge, we are confident that our seeds are GMO free, and we do our best to provide a wide variety of seeds so that everyone will be able to find something that grows well in their area.